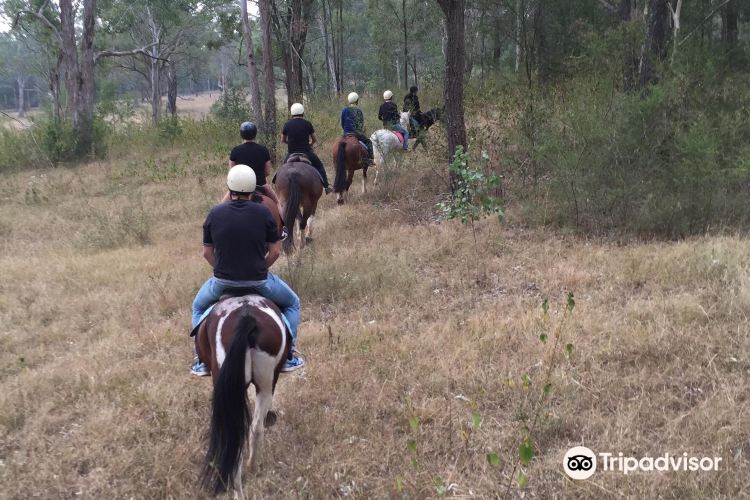 Hello my friends

Well it's the day before Christmas and I am confined to my bedroom and find myself in quite a bit of pain. A few days ago I took my daughter Zoe (7 yrs. old) for a horse ride.
On the trail a huge tree fell right as we were riding by, it made a tremendous noise, like a gunshot, only louder (to my ears). The horses were spooked and suddenly all hell broke loose as the horses bolted. Little Zoe struggled to stay on as her horse (named spook ironically) galloped full pelt up a hill, Zoe suddenly came off and smashed into a tree.
I was probably in shock and on top my own bolting horse (named Jerry) we flew by Zoe who lay on the ground screaming in pain, I dismounted my horse while it bolted at full speed and hit the ground hard, tumbled down a hill and suddenly a tremendous pain in my right foot.
Running to Zoe the pain was almost unbearable, we huddled together on the ground, covered in scraps blood and dirt, it was a hot day. "This was the worst thing that has ever happened to me" said little Zoe, I just held her and asked the shocked people about us, who were also on the ride to call for help.
We spent the day at Emergency in Katoomba and Zoe was discharged a few hours later and I was told I had a badly broken foot and will likely need a get metal pins put in during an upcoming operation.

I am re-watching a video interview between Richard Moss and Ian McNay of Conscious TV today and am moved to share a link to that interview on this blog.
In the interview Ian attempts to corner Richard into speaking about the Transcendent Oneness of Awareness, spoken of as the ultimate state by so many of today's spiritual teachers, many of whom have certainly come into a direct union with their own true nature. Yet Richard was not about to go down the path of leading us away from our own humanity and the directness of the profound beauty of being human, by creating a yet another goal "to attain some state" apart from the
what is so blessed
of their everyday lives.
Richard stated something to the effect of "he would rather identify with what is vulnerable in him, than with the transcendent awareness, as it is our vulnerability, our humanness that allows for gentleness, love compassion humility and a profound oneness or union with nature". (paraphrased)
I won't attempt to relay his exact words, I am needing to go lay down again but I do implore you to watch this interview.